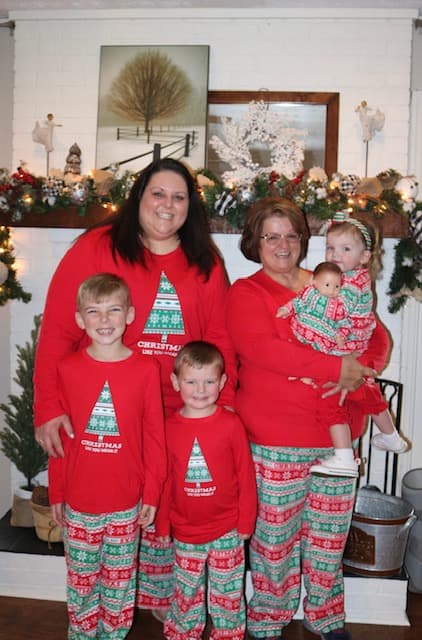 Emily Franklin has had the desire to help others from a very young age. Her biggest maternal influences were her mother and two grandmothers, all of whom were nurturers by nature. Meanwhile, her paternal influences, her father and grandfathers all coached sports, helped out in church and volunteered time at the local food pantry. Thus, from the beginning, the virtues of selflessness and empathy were instilled in Emily. As early as middle school, Emily remembers helping in the secretary's office and volunteering to help in the special education room where she created lasting relationships that persist to this day.
Next month Emily will celebrate her 10-year anniversary with Necco, but before we get to her current decade-long employment, we must go back to her college days, and her first decade-long employment. Those formative years sum up Emily's journey from nurturing middle-schooler to Independent Living Program Director.
When she started college, Emily chose to major in Elementary Special Education with the goal of one day becoming a teacher, but during her sophomore year, life intervened. A friend reached out to her about a job opportunity she thought would fit Emily's personality. The role was working in a group home for adults with intellectual and developmental disabilities.
The position would be a live-in caretaker and come with her own apartment in the house. Emily would be responsible for transporting people to and from work, helping them cook dinner, teaching daily living skills and taking them to participate in various activities. As soon as Emily set foot in the house for the first time, she says she "knew that this is where I was meant to be."
Emily lived there for two years through college before getting her own apartment and staying with the company for another 10 years. Throughout her time there she moved up from Direct Care Staff to Manager, Program Manager and finally Director of Residential Supports. Emily began her college education with the goal of becoming a teacher, and that's exactly what she did. She says working there for a dozen years allowed her to teach "in a way that I didn't know existed."
After an unexpected restructuring eliminated Emily's position and left her without a job, she began searching for the next big thing in her life. Enter Necco. In May of 2011, Emily came to Necco of Florence. In the beginning, she split a caseload between Foster Care and Independent Living, but she felt her previous experience in life gave her more of an opportunity to teach young adults and she soon transitioned fully to independent living. Emily says working with the young adults has presented "some challenges at times," but being a trusted person for the ones who have never been able to trust anyone is a reward that makes it all worthwhile.
Emily thrived in her role as a Case Manager, and when Necco underwent a restructuring of our own, shifting to functional service lines in April of 2020, Emily was hand-picked by Necco leadership to become the first Independent Living Program Director under the new restructure. Rather than her role being eliminated, one was created with her in mind. Greg Thompson, Vice President of Independent Living, says "Emily has a special talent for seeing potential and getting the most out of the young adults she serves. Almost immediately upon our company restructure, Kim Hedglin and I quickly saw that same potential in Emily as a leader that she sees in her young adults and offered her a well-deserved promotion."
Greg isn't the only one offering up a beaming review of Emily's potential, character and work ethic, Emily's direct supervisor, Kim Hedglin, Kentucky State Director for Independent Living, said "Emily is one of the most dedicated individuals I know to her youth and teammates. She is available night and day and is considered to be everyone on the IL teams' mentor. She constantly strives to better our program in every way possible!"
As the theme has gone throughout her life, Emily has enjoyed the teaching aspect of her independent living roles the most. Emily teaches the young adults various life skills, but money management and budgeting is one she focuses on the most. Necco's recent partnership with First Financial Bank to help set up the fundamentals of good money management is something Emily looks at with pride. Meanwhile, Emily remembers her father always saying "Spend a little, save a little and you'll always have a little," and she can see that lesson being passed on to the young adults all throughout the program, like Tia Humphrey, who bought her own home on her twenty-first birthday when she graduated the independent living program.
That growth and learning is what fuels Emily to keep teaching. She says that experiencing milestone moments like high school and college graduations, first jobs, driver's licenses, first car purchases and receiving promotions give her an incredible feeling of purpose. She even cut the umbilical cord for a new mother! Perhaps the moments she cherishes most are the times when former young adults come back to visit, send her a text, or reach out through Facebook. Emily says she loves catching up and seeing just how far her former "students" have come in life! These special moments are also teaching moments. They are opportunities to grow and learn with a trusted mentor by their side, and Emily relishes every opportunity to be that mentor, and offer guidance and wisdom she has earned over decades of experience teaching and helping others.
If you're considering Necco's Independent Living Program, you can learn more about it on our Independent Living Overview page or check out our Independent Living FAQs for more answers!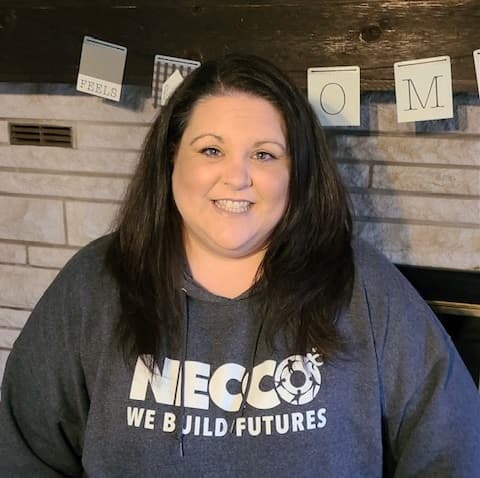 Fast Facts:
Age: 41
Hometown: Aurora, IN
Hobbies: Easy DIY Projects, Shopping and Spending Time with Family
College: Northern Kentucky University – BS in Mental Health and Human Services
Necco Awards: Competence Makes A Difference (2012), Shark Tank Award (2015), Positive Outcomes Award (2018), Trust Between Child and Adult (2019), Teacher Counselor (2020)
Interesting Fact: Emily LOVES her two nephews and one niece, and recently purchased a house that is walking distance from them so she can spend even MORE time with them!