Telehealth and Coronavirus
Necco's early 2020 launch of telehealth services have, fortunately, been just in time for the coronavirus outbreak and numerous government stay-at-home mandates. Telehealth is allowing families we serve to maintain critical social distancing guidelines, while still receiving the help they need.
Necco recognizes that during the outbreak, not only must we continue to take care of our clients' mental health but must also do everything in our power to protect their physical health. One of Necco's therapists in Ohio, Stacy McFann LPCC-S, says, "During this time of national crisis, telehealth is more useful than ever. With so much uncertainty and anxiety throughout our communities, telehealth gives out clients continuity of care.
What Exactly is Telehealth?
Telehealth is the online delivery of therapy, case management, nursing and psychiatry services via high-resolution, live video conferencing.
Necco is thrilled to be able to offer this new, innovative service to our clients who may not have the opportunity to reach out on their own, or who struggle with obstacles such as time, mental health stigma, or transportation to maintain consistent therapeutic relationships.
McFann, describes telehealth as: "An innovative and useful approach to counseling." She continues on to describe the benefits of reaching a wider audience by saying, "Those of us in helping professions recognize the importance of serving all of our community, not just those who are easily accessible; telehealth breaks down barriers to ensure everyone has access to vital mental health care services."
Even in 2020, mental health stigma continues to keep people from seeking out treatment that could improve their day-to-day life. Telehealth has provided a safe place for clients to reach out from the comfort of their own home to receive services and limit any barriers that may prevent them from obtaining the help they need. Necco has made it easy to start the process online or by calling (740) 451-0741. Once a referral is made, we can start enrollment that same day!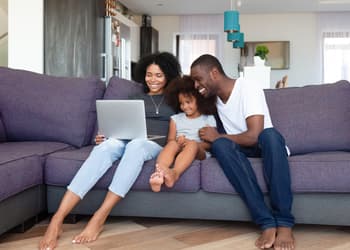 The Primary Benefits of Telehealth
Aside from its equal effectiveness as a therapy treatment, there are many other benefits to telehealth for patients seeking it out. A few notable ones include:
1. Easy Access:
For those who live in more rural communities, live with a disability that makes travel difficult, or those who are just nervous about trying therapy for the first time, telehealth is a beneficial option. Telehealth helps clear physical, emotional, and mental hurdles towards seeking out therapy and makes it accessible for more people.
One of our Ohio therapists, Jennifer Riddle LISW-S, sees the future benefits of telehealth past the current lockdown. Riddle says, "Telehealth has created an opportunity, that once life returns to normal, we will still be able to reach so many families who face challenges that interfere with traditional face to face appointments."
2. Flexibility
We get it, everyone is busy. Most us have jobs, kids, relatives and other things we need to make time for. Juggling can be tough. So, to have the ability to schedule an appointment, without any travel time involved with flexible hours is a game changer. Even if it's just on your lunch break, or that hour you have between chauffeuring the kids to their sporting events, the flexibility of telehealth makes scheduling a breeze.
One South Point, Ohio mother spoke to the convenience of telehealth saying that she likes knowing that her child can schedule with her therapist when it is convenient for her and not have to worry about getting transportation to see her therapist. "Before my daughter was in school and the therapist and case manager would come to the school to see her. Now things have changed, and I still don't have to worry about making appointments or getting her to see someone. They schedule weekly appointments and can schedule more in between if needed. It is working for my family."
3. Teenagers and Young Adults Choose Telehealth
It's no secret that teens and young adults are tech savvy, so it should come as no surprise that they're choosing telehealth over face-to-face therapy at a higher rate than any other age group. Elizabeth Creameans, our Director of Necco Family Counseling and Community Services, understands that fact and says, "Teens and young adults are finding telehealth easy to utilize because they are technology experts. They expect convenience and our highly trained team of mental health professionals are ready to meet those expectations."
4. Creates a Safer Environment
There's nothing quite like home field advantage. That's the edge telehealth creates for you. Instead of traveling to an unfamiliar location and waiting anxiously like you would at the dentist of doctor's office, you can relax in the comfort of your own home where you know you're safe and you have total privacy.
Why Now?
Necco therapist Mollie Lackey LISW-S says, "Now is the perfect time to start telehealth. Children and families are home and needing extra support during this time. Children have difficulty understanding why they cannot go to school, play spring ball, or see their friends."
Studies have shown that telehealth is equally as beneficial as face-to-face therapy. In addition to our traditional services, Necco is here to help you and your family through telehealth. If you want more information about Necco and telehealth click here. If you're ready to make an appointment, fill out this short form and you'll hear from us within 24 hours, or call us at (740) 451-0741. At Necco, We Build Families and nothing will stop us from delivering on that commitment.