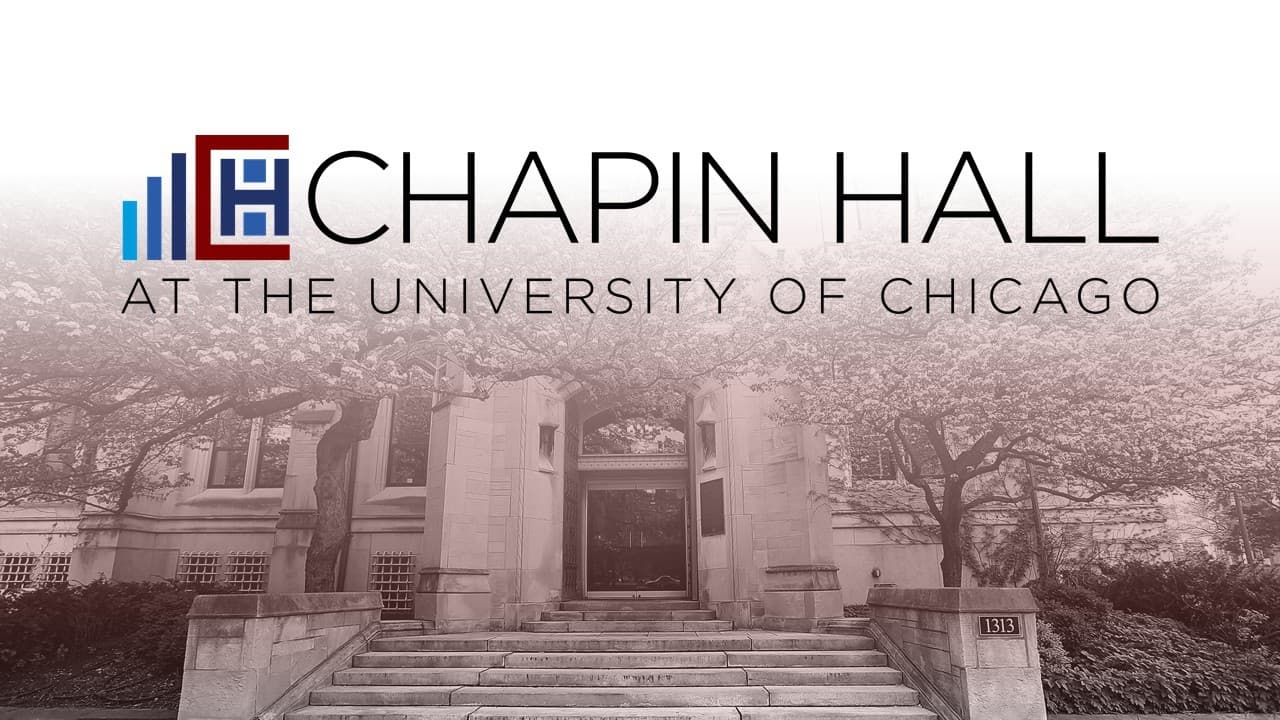 March 2021
Necco is a private child, youth, and family serving agency that provides foster care in four states— Kentucky, West Virginia, Ohio, and Georgia. Established in 1996 by the Necco family, the agency is committed to building families for the children, youth, and adults it serves. In addition to foster care, Necco provides independent living, behavioral health services, residential and outpatient services for individuals with developmental disabilities, and alternatives to detention. In 2012, Necco engaged independent evaluators at Chapin Hall to support data analysis and continuous quality improvement (CQI) efforts. This report gives an overview of key outcomes and performance metrics for Necco's foster care program.
Entry into Necco Foster Care Between calendar years 2015-2020, Necco had more than 12,000 foster care placements. Necco's entries have been growing over time, in particular for children aged 6-12 followed by children aged 1-5 (see Figure 1). The number of teenagers entering care has also been increasing steadily over time, and in 2020 the number of teenagers slightly exceeded 1-5 year olds. In 2020, the total number of children entering care dropped approximately 10% from 2019 levels. This decline may explained in part by the COVID-19 pandemic.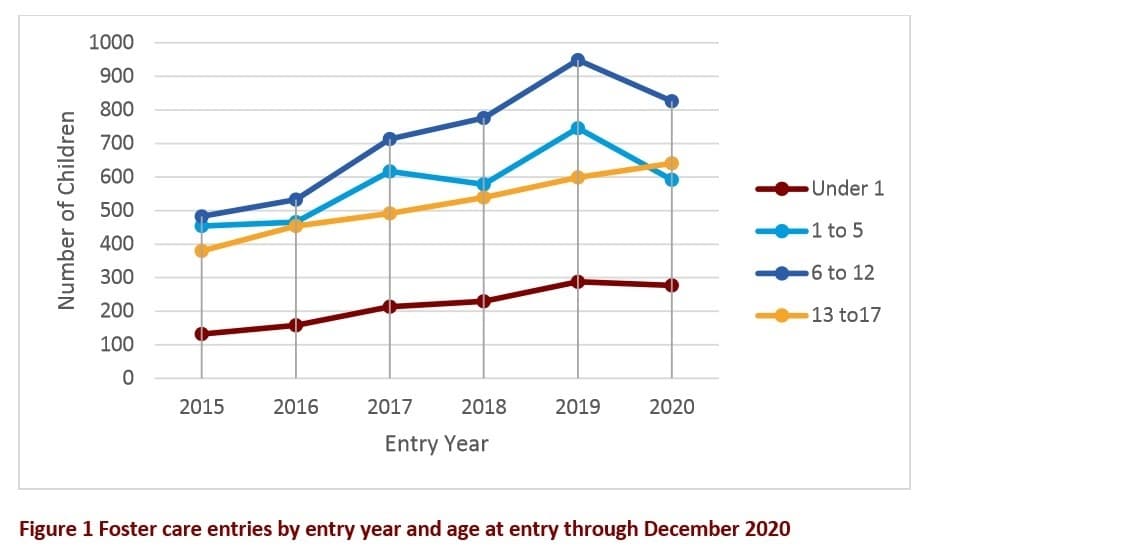 Placement Stability
When a child or youth is placed in a Necco foster home, in most cases they do not disrupt from that home—the majority of clients experience no placement moves (i.e. foster parent changes) while in care. Movement is measured for recent entry cohorts where at least 90% of clients have exited (2013-2018), observed through December 2020. Based on age at entry into foster care, infants experience the least amount of movement while teenagers experience relatively more movement. Very few Necco clients— less than 5% across all age groups—experience 3 or more moves while in Necco's care (see Figure 2).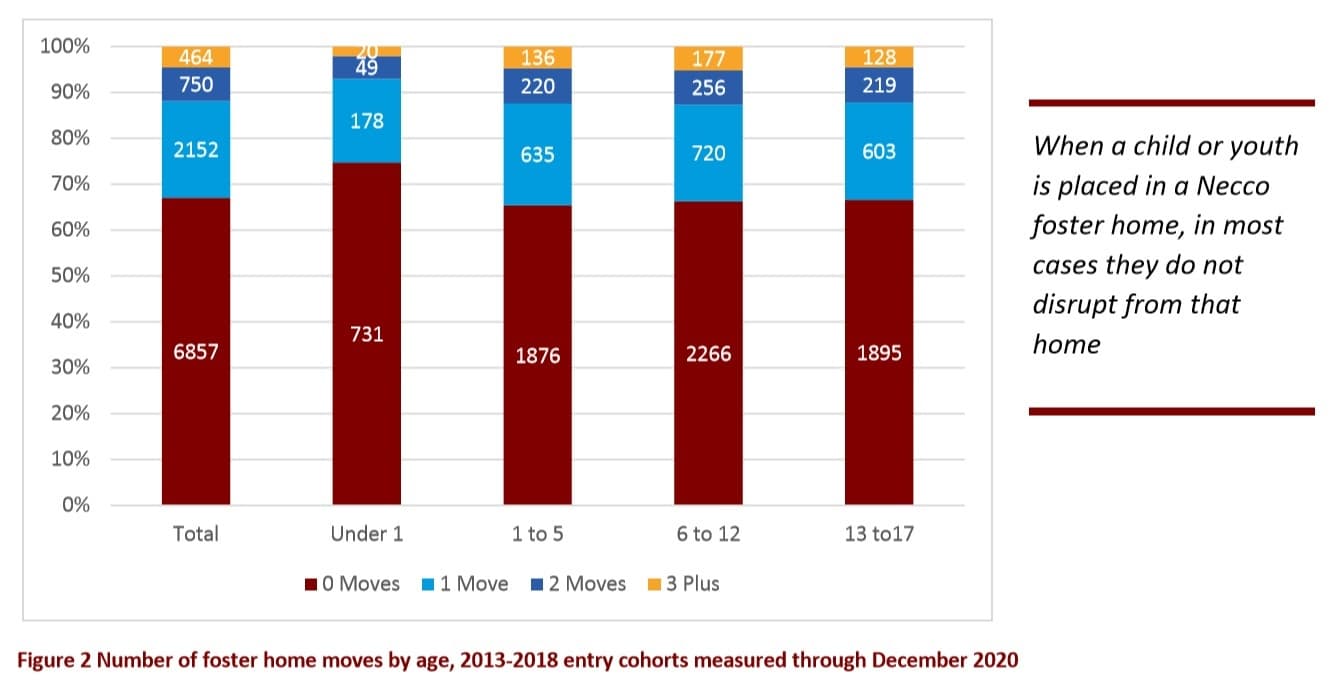 The federal Child and Family Services Review (CFSR 3) national standard for placement stability is 4.12 moves per 1,000 days of care. By comparison, all children and youth that entered Necco foster between January 1, 2020-December 31, 2020 experienced 3 moves on average per 1,000 days in care (see figure 3). Placement disruptions are the least common for infants.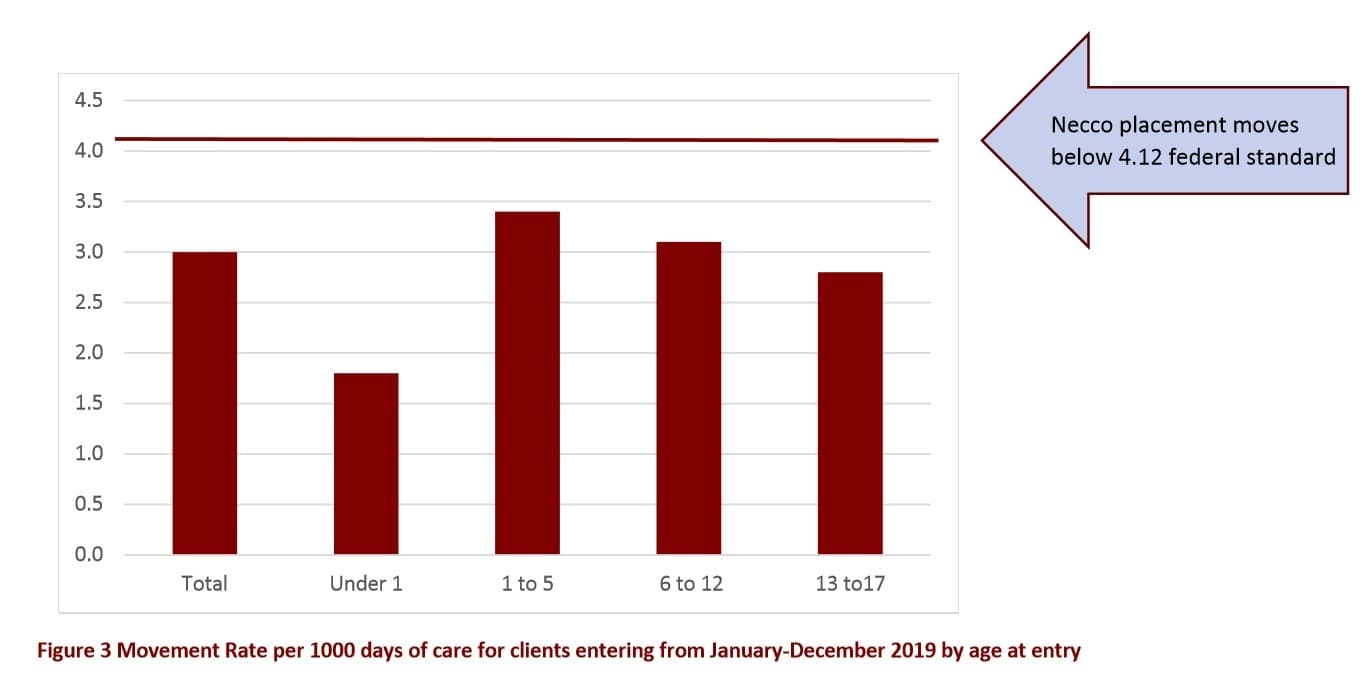 Time to Permanency
When a child is placed in a Necco home, in most cases they are there for less than nine months before they exit Necco's care (see figure 4). The median duration—or how many days it takes half of entries to exit—has been consistently under 10 months for children older than age 1 for 2015-2019 entry cohorts. For infants under age 1, there has been more variation with median duration reach a high of 12.9 months in 2017. Time spent in care for children aged 6-12 and teenagers has increased recently. Median duration for younger children aged 0-5 varies more over time, but is down for children entering care in 2020.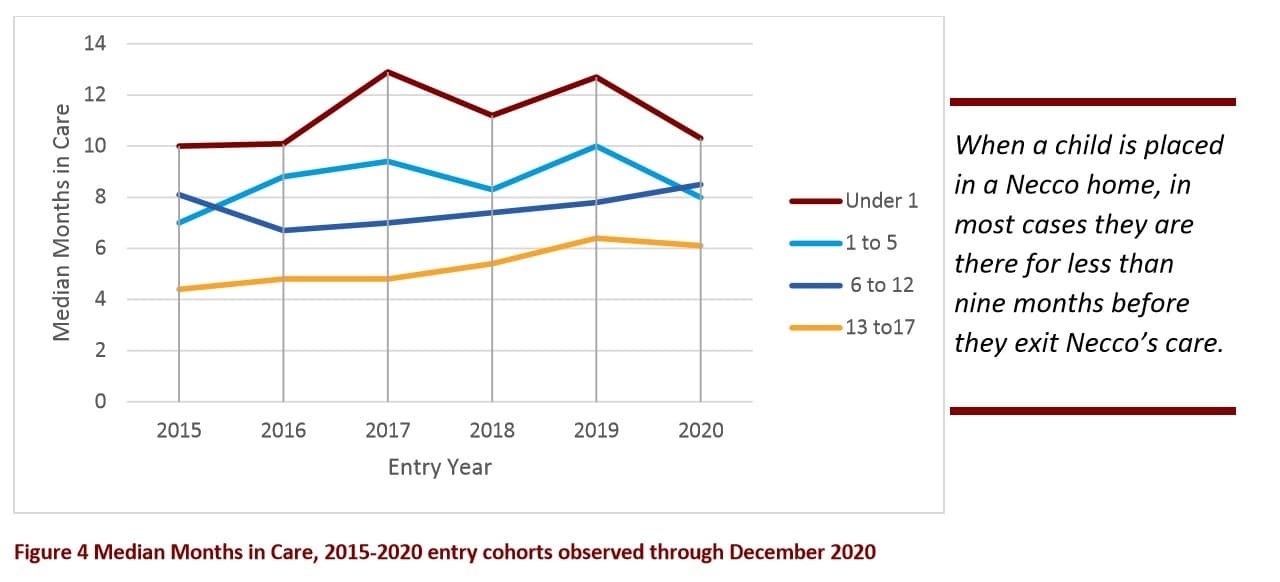 Another way to measure time in care is how long it takes children and youth to achieve permanency, or when "children have permanency and stability in their living situations".6 This includes adoption, guardianship, reunification, and transition to independent living for youth aging out foster care. The CFSR 3 national standard is that 40.5% of children entering foster care will achieve permanency within 12 months. By comparison, at least 41% of Necco clients achieve permanency within 12 months for 2015-2019 entry cohorts where children have had at least a year in care as of December 2020 (see table 1). It is important to note that the CFSR measure includes the child's entire time in care at the state level, which could include placements with multiple private agencies.