Necco awards two scholarships for 2014
At Necco our work is all about building families, including those represented by our employees. As a company that values the importance of children, we consider educating those children and elevating them to be their best selves as the highest of priorities. 
We are very proud of our Necco Scholarship Program, which provides $1000 scholarship awards to the children of full-time Necco or Necco Center employees. Due to generous contributions from donors, Necco was fortunate to present two (2) $1000 scholarships to some very deserving candidates. It is our hope that these students will carry on the tradition of learning and self-improvement that our company holds in such high esteem.
This year, we are thrilled to present Necco's first ever scholarship awards to Adam Cavins and Erika Kelley!
Adam Cavins is the son of Mark and Kristi Cavins. His mother Kristi currently works in our Huntington, WV location and his father Mark is a former Necco employee going back many years. Adam will attend Ashland Community and Technical College majoring in Pharmacy Tech with plans to transfer to Marshall University for Speech Therapy.
Erika Kelley is the step-daughter of Kelly Kelley. Kelly is married to Erika's dad, Joey and has been a part of the Western Kentucky Necco team for thirteen years, and currently resides in Paducah. Erika will study at Murray State University majoring in Exercise Science.
Rob Goodwin, Director of Training Staff Development said, "The Necco Scholarship program marks an exciting time in our company's evolution. In addition to caring for youth who have been removed from their homes, we now have a program that takes care of the needs for our own children."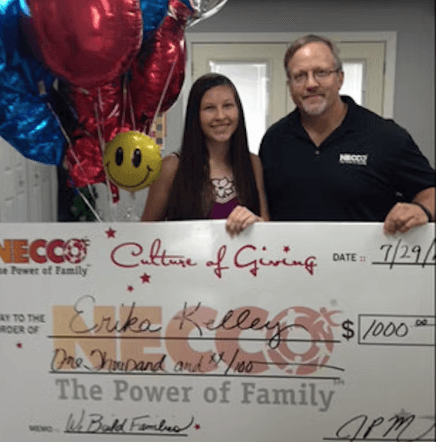 Congratulations to these fantastic students!
Would you like to contribute to a child's education? Become a donor for the Necco Scholarship Program.