Susie O'Brien, a foster parent with Necco of Augusta, GA, shared her fostering experience with us. Hold on tight as she takes you on an amazing ride...
Ron and I met in Virginia. He was a police officer I was a deputy sheriff. He had 3 teenagers and my two boys were 21 and 16. We married in 2008 and Ron announced that he wanted to move. After 37 years in one place, I was moving to a new state! My youngest decided he wanted to finish high school so he remained in VA with his father (my ex husband). We lived in Michigan for about 4 months so we could be closer to Ron's children. It was during this time that Ron's grandmother had a bad fall. She needed some extra attention and care, so she moved in with Ron's mother and sister. This left her home, a cabin in the woods, empty and in need of some TLC. We were moving again, this time to Georgia.
Ron began to work at the The Youth Challenge Academy at Ft. Gordon as a drill instructor for troubled youth. I worked for a Nuclear Pharmacy as a Administrative Assistant. We spent our free time fixing up the cabin and caring for animals such as horses, pigs, and chickens. As nice as our life was together, we still felt like we needed more. So, we decided to foster-to-adopt a child. A Deputy at the Richmond County Sheriff's Office recommended Necco, a therapeutic foster care agency.
And so it began.
After about 6 months, we opened our home to a 16 year old boy who had been in 10 foster homes and countless group homes. Then came two more teen boys. Lastly, my youngest son came to live with us. It was interesting! After we had been fostering for a year, we got a call for a little boy who was 15 months old. We were sure he would one day be ours. About eight months later, we got a call for a newborn girl who was still in the Neonatal Intensive Care Unit. Sadly, she was premature and born addicted to drugs but we were able to bring her home after two weeks. Shortly after, our little boy's mother met all the requirements for him to go home at a little over two years old. Although it was a sad time, we knew that he needed his mother.
Around the same time, we also obtained guardianship for our second foster son, Nikki, who came into our home. Then, we got a sibling group of two young boys who had developmental disabilities. We've had several other foster children in our home, including a sibling group of two little girls, but mostly, our foster kids have been teenage boys.
In a twist of fate about a year ago, we got another precious gift, the half brother to our foster daughter. He is an all-around busy little boy!
We celebrated our recent adoption of one of our foster sons, Landon, and look forward to adopting another of our foster sons in the near future.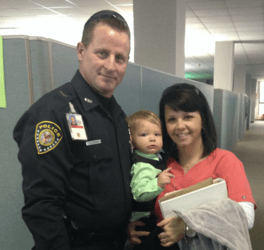 It's amazing.
Although these children are born into bad situations, we are able to help all of them. It can be scary at first. But the love we have for these children is no different than the love we have for our biological children. Ron's daughter Ashley, who is now 20, has been an amazing big sister to the kids. They adore her.
You could say that our family is well-blended. We may not all look alike, act alike, or even like the same things, but we all have one thing in common: love and devotion to one another. Foster parenting is an amazing ride and one that we are so glad we took!