Yesterday evening, I had the privilege of spending a couple of hours with one of Necco's longest standing foster parents, Rita Pancake. It was a great chance to "pick her brain" and discover the secret of her success as a foster parent for the last 17 years. I entered her home through the side of her house where Rita has made an office where she does her profession of tax preparations and book-keeping. Rita has managed to make her workplace as warm and inviting as she has made her home over the years. Rita invited me to take a seat and the adventure, which is her life of serving others, began to unfold. To start things off, Rita pulled out something that resembled an extremely long receipt from a store that one would struggle with folding for storage into a wallet. It was a list of every child that had been placed in Rita's home along with the dates they arrived, the dates they left and a dash to separate the two. Rita had also scribbled little words here and there under some of the children's names of memorable moments she had had with each of them. Rita and myself took a few minutes to count this enormous list and reached the number 106. WOW…… a staggering 106 children were provided a safe, loving home due to Rita! Some stayed for a month and others stayed for years. The longest placement Rita has had was 6 years.
Rita then began discussing her scrapbook filled with pictures of every child she has had the pleasure of helping as well as mothering in her home. She discussed each of her memories with passion. At ten minutes into our discussion, I was impressed with Rita's zest for life and helping children.
Rita began to explain how she had become a foster parent through Necco all those years ago. Rita spoke lovingly of her deceased husband, Larry Pancake, who passed away in 1998. Rita stated that she and Larry had always talked about becoming foster parents but due to Larry working on the Railroad, they were unable to make it happen. In 1998, Rita shared that she and her sister saw an advertisement in the local newspaper for a company called Necco. Rita and her sister Margaret, also a Necco foster parent, dialed the number.
Rita said that it didn't take her long to realize she had made the right decision. Rita had been a foster parent for a short time when a 17 year old pregnant youth was placed with her in November of 1999. The girl was the first pregnant youth to be placed with Necco as well. Rita showed me pictures on her phone of the youth and her baby from their recent visit with Rita. Rita also recalled memories of being this girl's Lamaze coach. What really struck Rita was the fact that the girl was not prepared for motherhood which lay directly before her. Rita stated "she made such a good impression on me."
Beau Necco's parents, Dr. Ed and Dorothy Necco, hosted a baby shower for the girl and supplied her with everything from a crib to diapers! Rita recalled this story with such passion and vigor. It was a powerful memory for her. Two decades later, and this act of giving by the Neccos is still as meaningful to Rita as it was the day it happened.
Rita recalled fond initial memories of Beau as well, "Beau always treated the foster parents with such respect and kindness. He always had the time to listen to you, which is so important." Rita mentioned that she still looks forward to her chats with Beau. This year she was able to spend some time with him at Children's Advocacy Day in Frankfort Kentucky (which she attends yearly).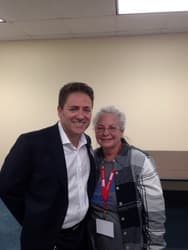 I asked Rita how she has managed to be a foster parent this long and she smiled, paused for a second, then said, "The Lord's helped me, I took it one day at a time." She went on to add "I would try one thing, if it didn't work I would try another." I continued by asking Rita what advice she would give a new foster parent and without missing a beat, she replied, "have fun with the kids, you will only have them a short time, and always remember they just want to be loved and be part of a family." Rita shared what foster care means to her, the pride in seeing kids come to her home with problems, but manage to turn it around and do so well for themselves as adults. Many of Rita's foster youth have left her home but continue to visit, call and seek guidance from her on a regular basis. Rita has made such an impact on these children's lives; their children call Rita "Grandma". Rita pulled out her phone and began to flip through the photos of her former foster children and their own children, spouting off their birthdates with ease. Rita also shared photos of her own children and grandchildren. The family she has built through the years is one of love. It is obvious that Rita is proud to have touched so many lives.
I asked Rita what a busy woman like her enjoys doing in her leisure time. And I shouldn't have been surprised by her answer. Rita continues to serve others. Rita volunteers one day a week at Our Lady of Bellefonte Hospital in the gift shop, is very active in her church including being a Sunday school teacher for ages 8 through 11, and volunteers for children's programs at the Paramount Arts Center in Ashland. She has spent years volunteering as a Big Sister, and has hosted foreign exchange students for 6 years now. One of her students, Yun-Hun, will be coming for a visit in August. Yun-Hun also calls Rita, "Mom". I began to feel inadequate as I thought about my "full days" of working then watching episodes of Law and Order before bed. I quickly realized that Rita does more in a day than I accomplish in a week!
Rita says she has no intention of quitting foster care and we hope to hold her to that. She stated "I will stay in foster care because there are more kids that need help."
What a list of accomplishments you have Rita…. a wife, mother, grandmother, role model, advocate, provider, nurturer, teacher, and all around good person who has dedicated her life to the servitude of others. It is obvious that you have found the secret of staying young: staying busy! We are honored to have you at Necco for the last 17 years and look forward to the next 17 with you!