Within the Necco Center, kids and adults alike can experience Café Discover, where participating students use high-tech augmentative and alternative communication (AAC) devices to help them learn and thrive with new life skills.
The Center is partnered with Westwood Preparatory Academy (WWPA) which allows students from the on-campus school to engage in what Café Discover has to offer. The café offers a variety of beverages including coffee, tea and lemonade. Once a drink is ordered, customers pay with realistic play money that is handed out before an event. This allows the events to remain free while still giving the students experience with money exchange.
Café Discover has held four events since opening, the most recent taking place on June 23.
The champions behind this amazing opportunity are Sara Campbell and Scarlett Campbell (no relation!) at WWPA. Sara is an Intervention Specialist and Instructional Lead and has been at the school for five years. Scarlett is a paraprofessional who has been with the school for six months.
Sara says that she learned about the idea while at a conference in Columbus. When Scarlett started working for the school, she and Sara got together to make the idea flourish. Scarlett used her knowledge as a barista to expand the café and offer more options.
Other WWPA staff also work at the café to make sure the events run smoothly. Intervention Specialist A.J. Hall and paraprofessionals Dorothy Bentley and Mitchell Patterson work with students at different stations.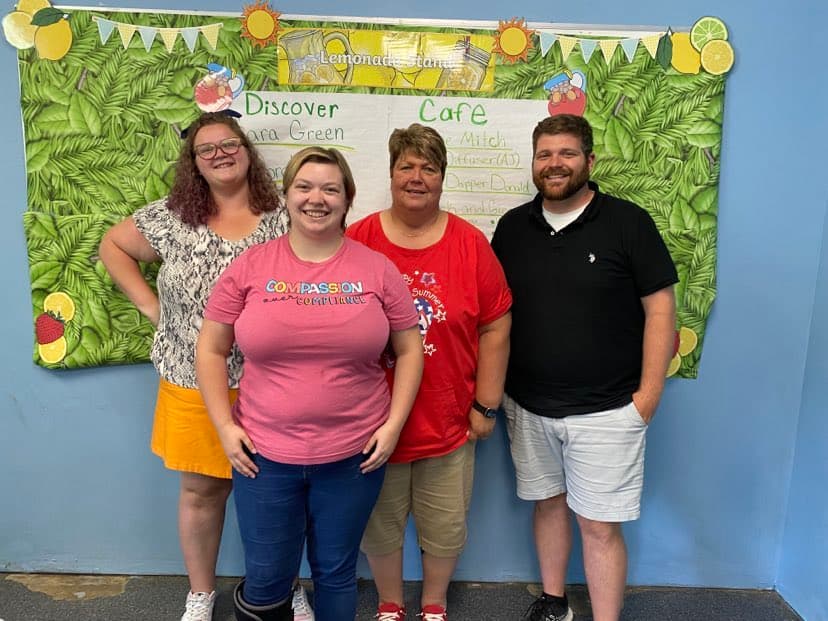 Café Discover has two different menus, one with lemonade and tea options and one with a variety of coffee drinks. All beverage options are inspired by and named after participating children (like the Zach Attack or Reese's Treat) and staff (like the Peffley Punch)!